Mobile Truck & Trailer Repairs

in Senatobia, MS

From heavy diesels to big rigs, the mechanics at Bo Denson Towing, Inc. know their way around a truck! We've worked hard to establish ourselves as the go-to mobile truck repair company in Senatobia, MS, and truckers have trusted us for more than 15 years. If there's a problem with your truck, put it in the hands of capable professionals who know how to fix it.

Our truck repair shop is equipped to work on just about any truck brought to us, and we're also knowledgeable when it comes to trailer repairs. From semi-trucks to reefer trailers, count on us to put in the work that gets your rig rolling along smoothly once again.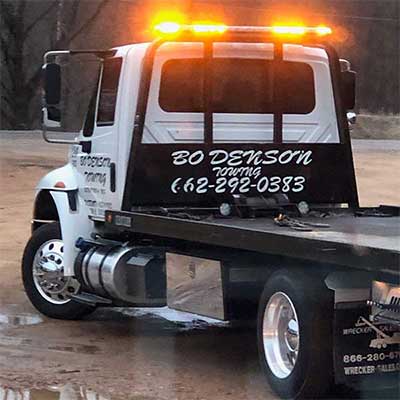 24 Hour Mobile Repairs

Truckers run into all kinds of problems out on the road, and you might not always be able to schedule an appointment for service. Don't worry—we offer mobile truck repair! Our mobile truck repair company's team of trained mechanics will come out to you to perform roadside assistance and repairs. Our scope of abilities is vast and many times, we're able to get your rig back up and running. When you need 24 Hour mobile repairs, call us with confidence.

24 Hour Truck & Trailer Repairs

For bigger repairs and maintenance procedures, we welcome you to our shop in Senatobia, MS. We're able to repair any truck or trailer, no matter what's giving you grief. From your undercarriage to your engine and everywhere in between, we'll handle the problem. Our mobile truck repair company even has experience working with dry bulk and reefer trailers!

Air conditioning
Bus repairs
Cooling
Dry bulk trailer repairs
Electrical
Hydraulics
Liftgates
Preventative maintenance
Radiators
Refrigeration trailer repairs
Trailer inspections
Transmission and driveline
Truck inspections
Welding
Tires
We Keep

Your Rig Rolling

Whether you're a local driver or just passing through Senatobia, Looxahoma, Coldwater, Como, or Strayhorn, MS, make a pit stop at Bo Denson Towing, Inc. if your truck needs service. From preventive maintenance to major repairs, we've got the skills, experience and tow trucks to set things right. Contact our truck repair shop today at 662-292-0383 for more information.